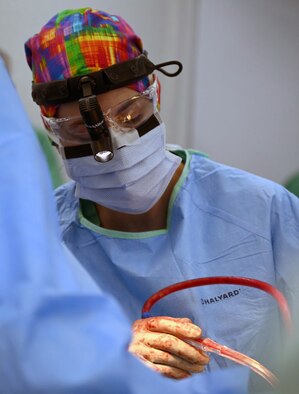 CHOLUTECA, Honduras (AFNS) —
U.S. Air Force and Army military doctors were in Choluteca, Honduras, May 12-27, to assist a local hospital with urologic surgeries during Resolute Sentinel 21.
The exercise provides joint training and improved readiness for U.S. civil engineers, medical professionals and support personnel through humanitarian assistance activities in Honduras.
Essential surgeries were performed on pre-selected Honduran patients and the surgical readiness training exercise, or SURGRETE, team completed their nine days of surgeries at Hospital del Sur May 27.
During their time in Honduras, the team of Air Force and Army medics completed more than 40 surgeries, ranging from simple transurethral resections of the prostate, or TURP, to extensive kidney and gallbladder removals.
"It was very important to have the team here with us to assist with surgeries," said Maria Antonieta Castro, director at Hospital del Sur. "Our list of surgeries had gotten longer since COVID-19 and having the team here allowed us to conduct surgeries that these people really needed. Not only were we able to do the surgeries, but they were done with Honduran and American medical staff, which creates a union between communities and countries."
While the locals received long-awaited care, the medics were able to hone their skills on more invasive surgeries, keeping their deployment skills sharp.
"Surgeries like this don't happen in the U.S.," said Air Force Lt. Col. Necia Pope, urologist with the 59th Medical Wing at Joint Base San Antonio-Lackland. "We have different equipment, and in this environment where equipment is constrained, being able to figure out a way through surgery without the equipment you're used to is huge for readiness."
The SURGRETE has also been the training ground for two anesthesia residents from the 59th Medical Wing. The procedures and limited resources have offered an opportunity for the residents to learn skills that they wouldn't be able to gain in garrison.
The anesthesiologists attached to the team played a critical role in the life-changing surgeries being provided. Without anesthesia, surgeries would be longer operations and put the patients under extreme stress.
While the surgeries had challenges, this was an opportunity for the anesthesia teams to hone their skills and expand their skill sets which sets them up for future deployments.
"When we work in garrison, we have additional doctors, technicians and machines available if something goes wrong," said Air Force Capt. Kimpreet Kaur, a 59th MDW anesthesiologist. "These limited conditions help prepare us for what we might see if we deploy downrange in the future, which in turn will help us save countless lives."
"The job of an anesthesiologist is simple: we make sure patients stay safe during the preoperative period from a cardiopulmonary perspective," said Air Force Maj. Dan Sehrt, an anesthesiologist with the 711th Human Performance Wing, Wright-Patterson Air Force Base, Ohio. "We accomplish this while doing our best to minimize their pain from some of the larger, more invasive surgeries.
"Missions like this provide an excellent opportunity to apply the residents' training in an environment different from what they experience at Brooke Army Medical Center," Sehrt added. "Our residents on this mission have done an excellent job being creative and operating independently. They've done this while using their clinical reasoning to navigate hurdles, due to a resource strained environment not seen in-garrison."
"During this mission, our team of four staff and resident anesthesiologists have had to rely heavily on each other to get through the surgeries safely and to overcome limited resources," said Air Force Capt. Courtney Hood, a 59th MDW anesthesia resident. "We have to walk into each surgery prepared to treat anything we encounter. This has taught me to be as prepared as possible for all my anesthetics, choose patients wisely, and consider the entire preoperative course in my management."
The SURGRETE team also learned important lessons that will help their patient care back in-garrison and during deployed environments.
"Our experience working with the local surgeon taught us to work through situations that we hadn't yet encountered which will be extremely valuable in emergency situations back home and in the deployed environment," Pope said. "When we came here, I thought we would be helping the Hondurans, but I have been awed by the grace and kindness of the locals here. I am leaving here with a deeper respect and friendship with the Honduran people."
The team also headed home knowing they've changed the lives of every single patient they saw and the friendships they built.
"While there was an exchange of information, there was also a building of friendships, both personal and between countries," said Dr. Jose Maria Paguada Mungia, the Choluteca Regional Health director. "That is the goal with this exercise. We thank you for what you did these past two weeks, and what we can hopefully continue to do together. We look forward to Resolute Sentinel 22, and the work that will be done in the future through these exercises."