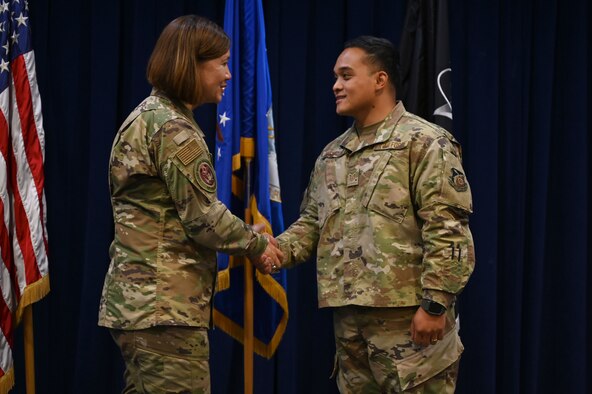 LOS ANGELES AIR FORCE BASE, Calif. (AFNS) —
Airmen and Guardians from the Space and Missile Systems Center and the 61st Air Base Group welcomed Chief Master Sgt. of the Air Force JoAnne S. Bass during a visit to Los Angeles Air Force Base, July 1.
For her first official visit with the men and women of SMC and the 61st ABG, Bass was immersed in the critical space acquisition mission and met with Airmen and Guardians who expertly carry it out in support of U.S. Air and Space Force operations.
"I couldn't be more excited to be here and that we have a Space Force because now, we can finally put the proper resources and personnel toward advancing the space mission," Bass said. "Because if we lose in space, the nation loses."
Bass, who is the 19th CMSAF and the first female appointed to the highest noncommissioned officer position in the U.S. Air Force, spoke to Airmen and Guardians during an enlisted all-call about the importance of her priorities – people, readiness and culture.
"I will spend a lot of time on the people aspect because our people are the one competitive advantage we have against our adversaries. Period," said Bass. "No other Nation has the caliber of people that we do."
"In order to keep the right talent in the U.S. Air Force, we have to make sure that we have a culture and a climate where people are excited to serve," Bass continued. "And that requires us to make changes to ensure our personnel feel empowered and valued."
Bass charged those in attendance to read and embody the Air Force Chief of Staff Gen. CQ Brown, Jr.'s strategic approach, Accelerate, Change or Lose, in order to remain the most dominant and respected Air Force in the world.
After the all-call, Bass publicly recognized the accomplishments of several SMC and 61st ABG outstanding performers alongside their supervisors and thanked them for their dedication to the U.S. Air Force and U.S. Space Force. In addition, service members had the opportunity to directly engage with Bass on relevant and timely subjects and share their personal perspectives and honest feedback on service-wide initiatives.
"As we head into the long weekend, I want each of you to go home and thank your families and support systems from my husband and me," Bass said. "It isn't lost on me how much they sacrifice – sometimes more than us – so we can do our jobs as effectively we can."