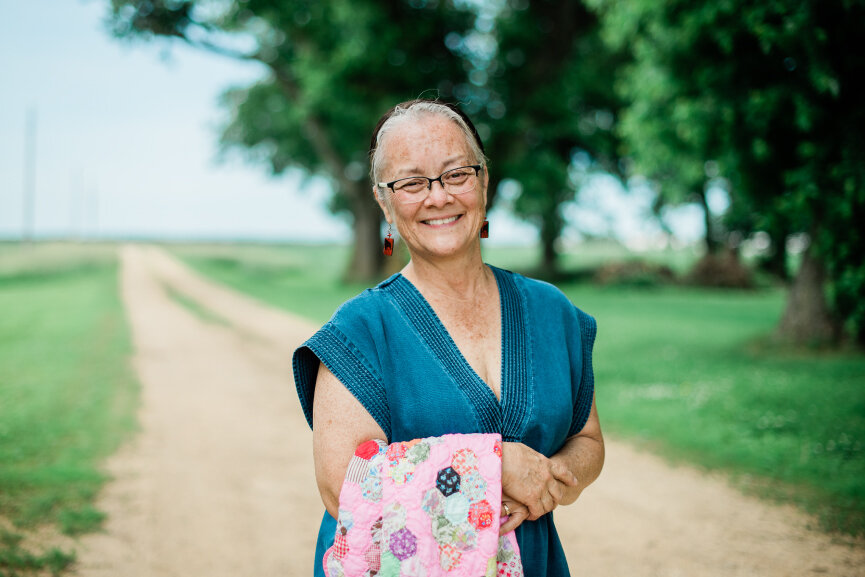 [ST. PAUL, MN] – Today, Governor Tim Walz and Lieutenant Governor Peggy Flanagan appointed Gwen Nell Westerman to serve as Minnesota's Poet Laureate. Dr. Westerman will be the first Native Poet Laureate in Minnesota.
"I am thrilled to announce Minnesota's next Poet Laureate will be Gwen Nell Westerman," said Governor Walz. "The Poet Laureate serves as a beacon for the best of Minnesota and the people who live here, inspiring generations of poets and readers and advocating for young people to use their voices. Dr. Westerman brings a wealth and depth of experience that is representative of Minnesota's vibrant poetry community. I am grateful she has chosen to bring her talents and knowledge to this new role as Minnesota's Poet Laureate."
"It is an honor to celebrate Gwen Nell Westerman's appointment as Minnesota's third Poet Laureate and first Native Poet Laureate," said Lieutenant Governor Flanagan. "Native people are still here. We have always been here – before Minnesota was Minnesota. And we will continue to be here, long into Minnesota's future. Dr. Westerman's tenure as Poet Laureate is a chance for us to reflect on our shared history – and imagine the future together."
"It is an honor to serve as the Poet Laureate and help elevate poetry across the State," said Gwen Nell Westerman. "I am excited for the opportunity to share the beauty of poetry and to engage and celebrate the voices of all Minnesotans."
Over the last six months, the Minnesota Humanities Center has led a process to define and reinvigorate the role of Minnesota's Poet Laureate, collaborating with the Office of Governor Walz and Lieutenant Governor Flanagan to seek applicants ready to be highly active and visible in the community. Founded in 1971, the Minnesota Humanities Center (MHC) is an independent nonprofit affiliated with and supported by the National Endowment for the Humanities. MHC is also a grantmaking organization and operates a full-service event center in a historic building on Saint Paul's East Side.
"The world is never the same after a good poem has been shared as a beautiful poem can change the shape of our understanding of each other and our society," said Kevin Lindsey, CEO of the Minnesota Humanities Center. "We are delighted to support Minnesota's Poet Laureate in helping us gain greater understanding of one another and connectedness within our society."
About Dr. Gwen Westerman
Gwen Nell Westerman is a citizen of her father's people, the Sisseton Wahpeton Oyate in South Dakota. Her mother's people are from the Flint District of the Cherokee Nation in Oklahoma. Her parents met at Haskell in Lawrence, Kansas. Dr. Westerman grew up in Oklahoma and Kansas, and returned to her Dakota homeland in Minnesota in 1991. She currently is a Professor in the English Department at Minnesota State University, Mankato, where she has taught since 1992. She writes about Dakota history and language and won two Minnesota Book Awards for her work about Dakota people, Mni Sota Makoce: The Land of the Dakota. Dr. Westerman's first poetry book Follow the Blackbirds was written in English and Dakota. Her poems and essays have been published in journals and anthologies across the country. Her quilt art has been supported by grants from the Minnesota State Arts Board and is in the permanent collections of the Minnesota Historical Society, the Great Plains Art Museum, and the Heritage Center at the Red Cloud Indian School. Dr. Westerman received her Bachelor's and Master's in English from Oklahoma State University and her PhD in English from the University of Kansas.
About the Minnesota Poet Laureate
The Poet Laureate is expected to:
Promote and encourage appreciation of and engagement with poetry

Engage marginalized voices in poetry

Celebrate the state's rich and vibrant cultural heritage

Engage young people within and across lived experiences

Inspire all generations of poets and readers

Champion poetry and spoken word across the state

Support children's mental health and well-being and an inclusive state workplace

Elevate the state's poets and authors – past and present – by attending and participating in events and activities hosted by others, including state events

Engage in a minimum of five public literary and other cultural events, virtually and/or around the state, in collaboration with a variety of partners including state arts councils, Minnesota Humanities Center, Governor's Office, and state agencies
For more information about the selection process for Minnesota's Poet Laureate, please visit: https://mnhum.org/get-involved/participate/minnesota-poet-laureate/ .