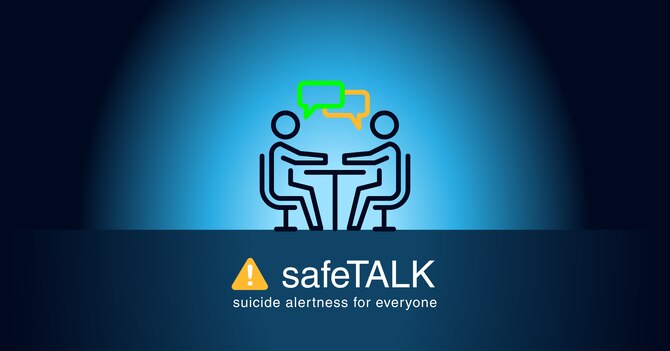 PATRICK SPACE FORCE BASE, Fla. (AFNS) —
She stood in the cemetery staring at her father's grave, trembling.
A few months ago, her father took his life. Today, she has decided to end her life. A world without her father is not one she wants to live in.
In her right hand, she holds a gun.
Before she can point the weapon at herself, she hears a voice call out.
That voice was U.S. Air Force Staff Sgt. Michaela Evans, Space Launch Delta 45 religious affairs noncommissioned officer in charge at Patrick Space Force Base. Evans was driving home to Palm Bay, Florida, Aug. 13, and noticed Sarah flailing her arms.
"She looked like she was in distress and I don't like to see people hurting or struggling alone," Evans said. "I stopped my car and approached her."
Evans noticed Sarah was sobbing. She also saw the gun she was holding.
"I took a step back and asked if she was going to hurt me," Evans said. "She said 'No, I just don't want to be here. This is for me.' I asked if she was OK with me sitting down and talking with her. We just sat there and talked for a while until she calmed down."
Sarah told Evans about her father's suicide and how much she missed him. She also spoke about how the gun she was holding was his and about how painful it is to face life without her dad.
"I told her that I lost my dad at a young age and that my mother attempted suicide," Evans said. "I shared with her how difficult that was and told her that she still has her mother, who loves her very much."
The two continued talking until Sarah gave the gun to Evans and agreed to go home.
"I took her home, gave the gun to her mother and introduced myself," Evans said. "She was emotional. She did not know where her daughter was or what she was doing. She gave me a hug and thanked me."
The mother of the girl recently shared her appreciation for Evans's actions.
"I truly believe God placed Michaela in the right place at the right time," Stacey said in an emailed statement. "My husband took his life and my daughter was about to do the same with his gun at his memorial. Michaela didn't care what my daughter had in her hand, she sat with her, cried with her, talked with her and brought her home."
Sarah is now in an inpatient mental health facility.
Nearly two-dozen Airmen and Guardians participated in the safeTALK (Suicide Alertness for Everyone: Tell, ask, listen, keep safe) class at Patrick SFB, Sept. 21. The class uses scenarios, like the one Evans encountered, to teach people how to interact with someone who may be considering suicide and connect them with an intervention provider, such as chaplains or mental health professionals.
Laura Tasker, SLD 45 Sexual Assault, Prevention and Response coordinator, said the course builds on the training the military provides.
"We do annual suicide prevention training, but this class does a great job of using real-life examples that show you what to do and what to say," she said. "It goes a little farther than our annual training does."
During the class, Airmen and Guardians learned how to recognize when someone could be at risk for suicide, as well as how to engage with those individuals to keep them safe. According to the LivingWorks website, the safeTALK course is designed to help break down the stigma around suicide and provide people with skills needed to recognize when someone is in distress.
"I am always interested in learning more about how I can help people who may be struggling," Tasker said. "I work with clients who experience trauma and they often think about suicide. I want to have as many tools as I can so I can help them."
In 2020, the Department of Defense reported 689 suicides among military members, including 109 Airmen and Guardians. That is an average of 57 suicides a month.
Tech. Sgt. Aisha Jones, 45th Civil Engineer Squadron project manager for Simplified Acquisition of Base Engineering Requirements construction projects, said supervisors, commanders and leaders at all levels must demonstrate genuine concern for the people they work with.
"People complete the mission. If people are not cared for, there is no mission," she said. "If we care for our people better, we can prevent suicide. We need to look out for one another and have empathy for people's situations. I believe it's time for us as a force to be preventive and not reactive."
Jones also serves as a suicide prevention small group discussion facilitator at Patrick SFB. An important lesson she said she learned in the safeTALK class was to not judge others.
"A lot of people have difficulty discussing suicide," she said. "This class stressed the importance of not judging someone. They may be reserved for several reasons and they may fear being judged. This lesson stressed the importance of providing a safe, judgement-free environment where people feel comfortable being vulnerable and sharing what they are going through."