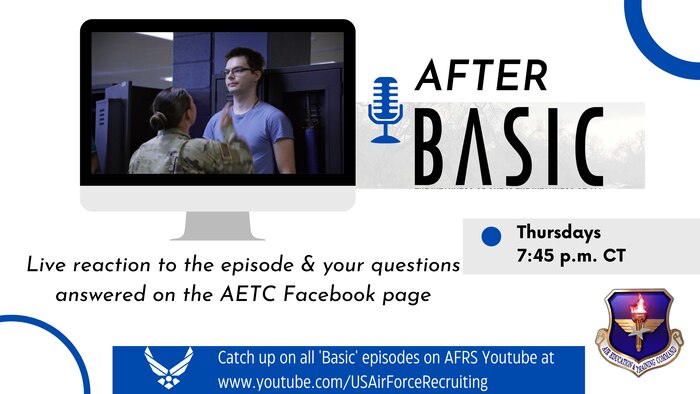 JOINT BASE SAN ANTONIO-RANDOLPH, Texas (AFNS) —  
A live social media 'after' show focused on reflecting on and discussing the Air Force Recruiting Service's new docuseries 'Basic' is set to debut on the Air Education and Training Command Facebook page Thursday, Nov. 11, at 7:45 p.m. Central Standard Time.
'After Basic' will air each Thursday at 7:45 p.m. after the 'Basic' episode release each week and feature guests from the docuseries and subject matter experts to offer additional insight and information on the events from each episode. During the show, viewers and fans are encouraged to interact with the hosts, Dan Hawkins and Master Sgt. Caitlin Jones-Martin, in the comment section on the AETC Facebook page.
"Basic" presents the unique perspective of five enlistees from various parts of the country as they navigate the ups and downs of BMT beginning in October, 2019. The show debuted in late October on the U.S. Air Force Recruiting Service YouTube page.
"From a recruiter's first meeting with a future Airman or Guardian, their initial questions always seems to be about what they can expect at BMT," said Maj. Gen. Ed Thomas, AFRS commander. "Today's BMT isn't what mom or dad went through decades ago and it's not necessarily what Hollywood portrays."
With the exception of Nov. 25, 2021, eight weekly episodes of 'Basic' will run Thursdays continuing through Dec. 23 at 7 p.m. CST. Run time for each episode is between 37 and 43 minutes.
The first episode is tentatively set to feature one of the visionaries of the show, Chief Master Sgt. Lee Hoover, as well as an Air Force recruiter and a military training instructor from the show.
Catch up on Chapter 1: First Impressions and Chapter Two: Shock and Awe on AFRS YouTube now before tuning in Thursday at 7 p.m. for the debut of Chapter Three: Chow Runners Go.